There is meaning within barely visible connections. The mere act of photographing a simple branch on the ground, redefines and breaks the boundary of the purely physical. It becomes an instrument defining a meaning to the mundane.
---
the_shortest_distance_between_2_points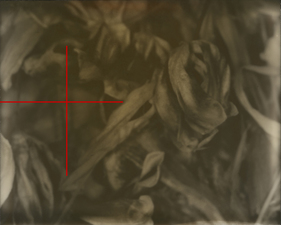 Dark Matter #1
2016
Polaroid and Digital Photograph printed on Photo Tex
36" x 28.8"
DARK MATTER #1 "Dark matter is an unidentified type of matter distinct from dark energy, baryonic matter (ordinary matter), and neutrinos whose existence would explain a number of otherwise puzzling astronomical observations."
(Overbye, Dennis (20 February 2017). "Cosmos Controversy: The Universe Is Expanding, but How Fast?". New York Times. Retrieved 21 February 2017.)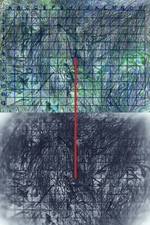 Encoding
2016
Polaroid and Digital Photograph; Phototex mounted on stretched canvas
48" x 72"
Memory is the ability of the mind to store and recall information that was previously acquired. Memory is processed through three fundamental processing stages: storage, encoding, and retrieval. Storing refers to the process of placing newly acquired information into memory, which is modified in the brain for easier storage. Encoding this information makes the process of retrieval easier for the brain where it can be recalled and brought into conscious thinking. Modern memory psychology differentiates between the two distinct types of memory storage: short-term memory and long-term memory. In addition, different memory models have suggested variations of existing short- and long-term memory to account for different ways of storing memory.